Celebrating 14 years
Growing community, increasing awareness #Stand4Heroes
From Idea To Impact
Stand Up for Heroes launched in 2007 as the brainchild of Bob and Lee Woodruff and New York Comedy Festival founders Caroline Hirsch and Andrew Fox, and has historically been New York's most anticipated night of hope, healing, and laughter honoring our veterans and military families. Beginning at Town Hall, the event moved to the Beacon Theater in 2010, and to the Hulu Theater at Madison Square Garden in 2013.
In 2020, for the first time, Stand Up for Heroes is going virtual!
Supporters around the world will tune in for performances by top comedians, musicians, and special guests. Beyond the laughs, the evening will feature inspiring moments, memorable surprises, and stories of resilience while recognizing the men and women who have served in our nation's military. The event will raise awareness and funds for the Bob Woodruff Foundation, whose mission to help veterans thrive is especially vital as veterans face increased challenges due to the COVID-19 pandemic.
Since its inception in 2007, Stand Up for Heroes has raised more than $57 million to create long-lasting, positive outcomes for our nation's impacted veterans, service members, and their families.
Over the past 13 years, comedians and performers including Stephen Colbert, Eric Church, Sheryl Crow, Jim Gaffigan, John Mayer, Seth Meyers, Hasan Minhaj, John Mulaney, Trevor Noah, Conan O'Brien, Jerry Seinfeld, Bruce Springsteen, Jon Stewart, Ray Romano, and Robin Williams have taken the stage to advocate for our extraordinary service members. Stand Up for Heroes is presented by the Bob Woodruff Foundation and the New York Comedy Festival.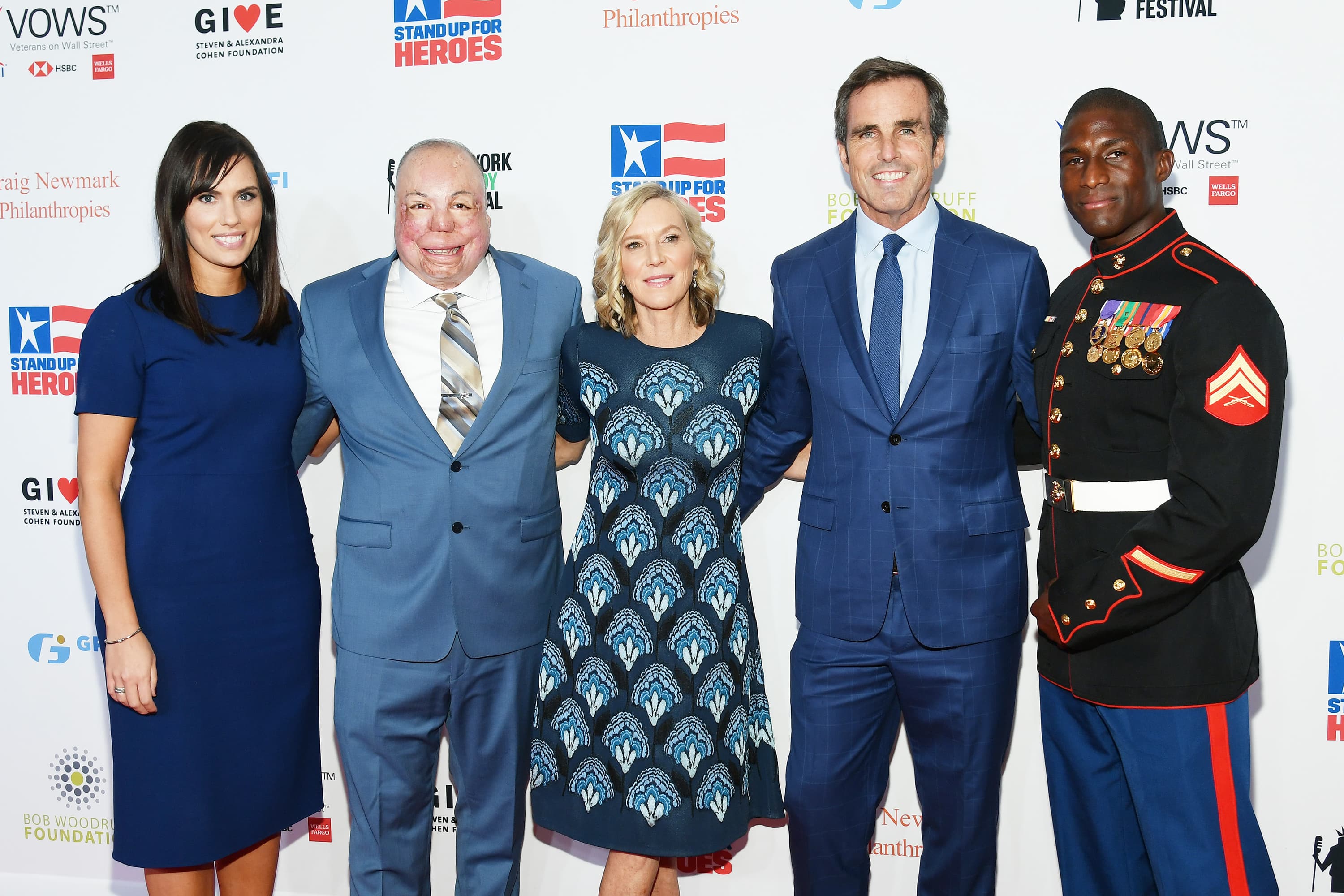 (Left to right) Anne Marie Dougherty, CEO of the Bob Woodruff Foundation; Retired Air Force Senior Master Sergeant Israel Del Toro; Lee and Bob Woodruff, co-founders of the Bob Woodruff Foundation; Retired United States Marine Corporal Kionte Storey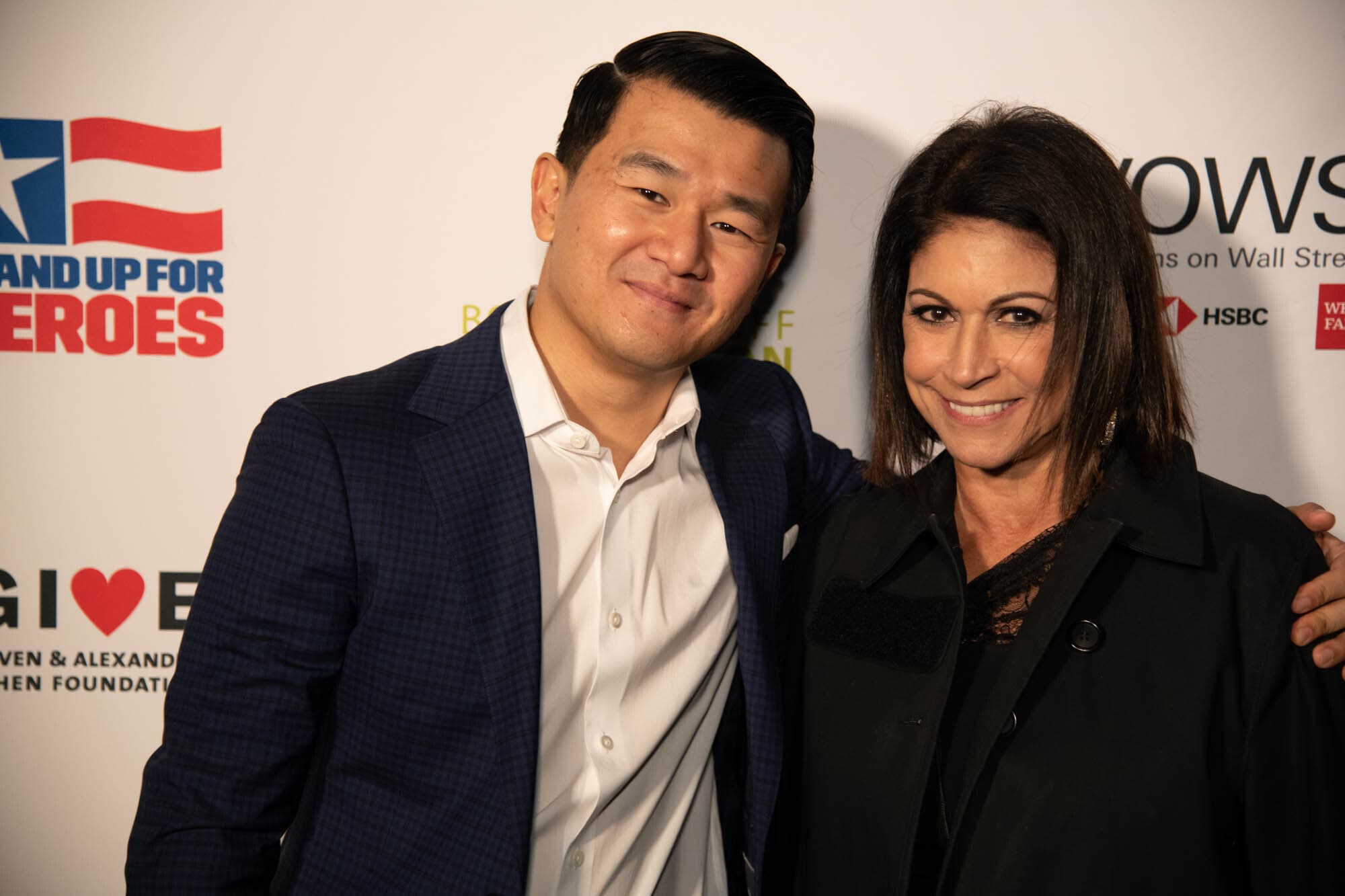 Caroline Hirsch and comedian Ronny Chieng at the 13th Annual Stand Up for Heroes
"…an incredible evening of music, laughter, and moving speeches about the incredible work of the Bob Woodruff Foundation."
--5 November 2019

"Ultimately, it's the combination of predictability and suspense that make 'Stand Up' so successful."
--5 November 2019

"One of the most entertaining benefit shows of the year."
--6 November 2018

"All of the work we do is aimed at reducing the legal barriers to housing, healthcare, and income for our veteran clients,"
--Liam Brennan, Executive Director of (CVLC)
"If I can serve and help foreign civilians then I can certainly be here to help Americans."

--Sherman Watson
Through this partnership and the support of the Bob Woodruff Foundation, we were able to support the manufacturing of 120 containers, which were delivered to the Hopi Nation.

---Nicola Winkel, Program Director at ACMF
"When I think of WoVeN I tell everyone that it is my lifeline."
--Brenda, WoVen member
View our past events gallery and playlists.
Buy limited edition apparel!